New York Professional Events List
Medicare Conference 2018 (EXL)
---
Date
Feb 26, 2018 - 08:00 AM - Feb 27, 05:30 PM
Organizer
New York Media Technologies LLC in association with EXL Events Inc.
Location
Hilton Austin Hotel500 E. 4th StreetAustin, TX 78701United States,
Austin,
TX ,
US,
ZIP: 78701
Phone: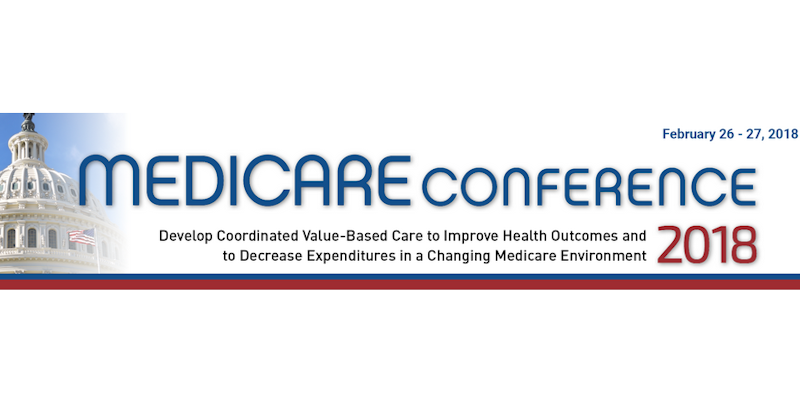 Description
Medicare Conference 2018
CMS has published extensive long-term and short-term changes to Medicare plans for 2017 and beyond, including a new payment model, a stronger audit and enforcement strategy, and a greater emphasis on integrated care coordinated by health plans and healthcare providers. With the inauguration of a new president and the enactment of sweeping MACRA changes, 2017 will inevitably disrupt the healthcare landscape.
After a year of extensive political and healthcare change, Medicare Conference 2018 will convene healthcare systems and insurers to exchange learned best practices for stabilizing costs, integrating care and encouraging patients to proactively manage their own health, all while adjusting to CMS' new regulations, payment models and stricter audits
Top Five Reasons to Attend
Identify the impact of the MACRA Quality Payment Program on Medicare Advantage star ratings

Explore innovative models that capitalize on the shift to value-based care

Coordinate physician and insurance care to nurture a better patient experience, increase star ratings and decrease expenditures

Uncover learned best practices to collaborate as physicians and payers on MACRA

Create an internal culture that uses member, agent and provider feedback to drive sales and marketing
Who Should Attend
This event is ideal for professionals from payers and pharmaceutical, biotechnology and medical device companies with responsibilities in the following areas:
CMS Compliance

Sales/Marketing

QRS

Star Ratings

MACRA

Patient Management

Patient Care
New Enrollee Recruitment

Social Care Management

Dual Eligible Plans

Strategy Improvement

Medication Management

Risk Adjustment
Agenda
---
AGENDA
-------
Day 1
------------------------------
Monday, February 26, 2018
------------------------------
8:00AM – 9:00AM Registration and Continental Breakfast
9:00AM – 9:15AM Chairperson's Opening Remarks
9:15AM – 10:00AM
Keynote: Outlook for Medicare Advantage and Dual Eligibles in 2018-2020
John Gorman, Founder, GORMAN HEALTH GROUP
10:00AM – 10:45AM Address the Challenges of Successful MACRA Implementation
John O'Shea, M.D., Surgeon and Senior Fellow, Center for Health Policy Studies, THE HERITAGE FOUNDATION
10:45AM – 11:15AM Networking Break
11:15AM – 12:00PM Bridge the Gap Between Fee-for-Service and Managed Care
Sarah Kramer, M.D., Chief Medical Information Officer, YUMA REGIONAL MEDICAL CENTER
12:00PM – 12:45PM Set Customer Expectations Before Contracting to Promote Engaged, Educated and Long-Lasting Members
Christine Leo , AVP, Senior Products, CIGNA
12:45PM – 1:45PM Lunch
1:45PM – 2:30PM Deep Dive Into Tactics That Increase Member Engagement and Ultimately Improve Star Ratings and Decrease Costs
Peter Lymm, Chief Operating Officer, CHENMED
2:30PM – 3:15PM Panel: Evolve the Marketplace With Health Plan-Provider Value-Based Arrangements
Leah Hirsch, Government Relations Director, Medicare, ANTHEM
Scott Sarran, M.D., Chief Medical Officer, Government Programs, BLUE CROSS BLUE SHIELD OF ILLINOIS
3:15PM – 3:45PM Networking Break
3:45PM – 4:30PM Analyze the Skilled Nursing Facility's Perspective in Managed and Accountable Care for Medicare Populations
Michael Perez-Mesa, Division Director Managed Care, SAVASENIORCARE
4:30PM – 5:15PM Apply Lessons Learned From Successful IDNs in the "Real World" to Re-Engineering for Value for Medicare Populations
Thomas Graf, Chief Medical Officer and Vice President, HORIZON BLUE CROSS BLUE SHIELD OF NEW JERSEY
5:15PM – 6:00PM Medicare 2028: What Will the Next Decade Bring?
Leonard Kirschner, M.D., MPH, former President, AARP; former Director, ARIZONA MEDICAID
6:00PM – Day One Concludes
--------
Day 2
--------
Tuesday, February 27, 2018
-------------------------------------------
8:00AM – 8:45AM Continental Breakfast
8:45AM – 9:00AM Chairpersons' Recap of Day One
1) Health System-Plan Alignment
----------------------------------------------
9:00AM – 9:45AM Utilize Data Analytics and Data Mining to Audit With Medicare's New Payment Models
Paul Belton, Vice President, Corporate Compliance, SHARP HEALTHCARE
9:45AM – 10:30AM Utilize the EHR to Optimize Physician Documentation and Code Selection
Deann Woods Tate, Director, Coding Effectiveness, BON SECOURS HEALTH SYSTEM, INC.
10:30AM – 11:00AM Networking Break
11:00AM – 11:45AM Develop Strategies for Post-Acute Care Planning Under Medicare Advantage
Deborah Walters, Director, Case Management, ST. DAVID'S HEALTHCARE
1) Dual Eligible De-fragmentation
-------------------------------------------------
9:00AM – 9:45AM Case Study: BIDCO Partnership With MassHealth to Improve Medicaid/Medicare Populations
Michael Olsen, MBA, Senior Director, Network Strategy and Contracting, BETH ISRAEL DEACONESS CARE ORGANIZATION
9:45AM – 10:30AM Discover Tactics to Increase Healthcare Enrollment and Healthcare Quality for Dual Eligible Special Needs Plans
Bill Jensen, Vice President, ICARE HEALTHCARE
10:30AM – 11:00AM Networking Break
11:00AM – 11:45AM Navigate Successful Benefit Structures to Drive Members to Engage and Manage Their Health

Cont..
11:45AM – 12:30PM Analyze Innovations in Healthcare for Succinct Integration and Application for the Member and the Plan
Annamarie Rakes, Director, Quality Improvement and Stars, BLUECROSS BLUESHIELD OF TENNESSEE
12:30PM – 1:30PM Luncheon
1:30PM – 2:15PM Develop a Specialized Medicare Advantage Plan for Long-Term Population
Curtis Stubblefield, Director, Value-Based Care, NATIONAL HEALTHCARE CORPORATION
2:15PM – 3:00PM Address Challenges With Multiple Sales Channels by Balancing Growth Through Online, Internal Sales Team and Independent Agents
Larry Baca, Director, Sales, INTER VALLEY HEALTH PLAN
3:00PM – 3:45PM Uncover Best Practices for Establishing MACRA at Your Organization
George Miller, Adjunct Professor, CENTRAL MICHIGAN UNIVERSITY; Former Commissioner, MEDICARE PAYMENT ADVISORY COMMISSION
3:45PM – 4:00PM Chairperson's Closing Remarks
4:00PM – Conference Concludes
------ END OF AGENDA ------------------
Speaker Details
---
Event Partners
---
MEDtube
MEDtube is an innovative video education platform for health professionals. It allows sharing videos and other materials with a community of more than 110,000 users worldwide, as well as building e-learning courses. The videoteque is updated daily and now contains almost 15,000 videos.
PharmaLeaders
PharmaLeaders.com is an online environment dedicated to enriching the careers of more than 200,000 life sciences professionals. With breaking news and informative content grouped into one of nine segmented channels, in-depth special reports, job and events postings, and so much more, industry executives, manufacturers, marketers and educators can count on PharmaLeaders for the tools they need to succeed in today's competitive market environment.
pharmaphorum.com
pharmaphorum drives innovation within the pharmaceutical industry, by bringing together healthcare through a suite of media services that help produce and disseminate thought leadership, combined with an online platform for communicating messages to a global audience.
PharmaVOICE
PharmaVOICE magazine, reaches more than 41,000 qualified subscribers and 100,000 users with its digital edition. PharmaVOICE is the forum that allows business leaders to engage in a candid dialogue on the challenges and trends impacting the industry. PharmaVOICE provides readers with insightful and thought-provoking commentary in a multiple-perspective format through forums, topics, and articles covering a range of issues from molecule through market. PharmaVOICE subscribers are also kept abreast of the latest trends and information through additional media resources, including Social Media, WebLinx Interactive WebSeminars, Podcasts, Videocasts, White Papers, E-Surveys and e-Alerts.
PM360
PM360 is the premier, must-read magazine for marketing decision makers in the pharmaceutical, biotech, and medical device industries. Published monthly, PM360 is the only journal that focuses on delivering the full spectrum of practical information necessary for product managers and pharma marketing professionals to succeed in the complex and highly regulated healthcare environment. The journal's targeted and insightful editorial focuses on issues that directly impact critical decision making, including: planning and implementation of cutting edge strategies, trends, the latest technological advances, branding/marketing, advertising/promotion, patient/professional education, sales, market research, PR, and leadership. Additionally, the '360' in our title signifies the combination of this critical, how-to info with personal and career insights for an enjoyable and thought-provoking read. By providing the full circle of enriching content, PM360 is truly an indispensable tool for busy and productive marketing professionals to stay at the top of their game.
Technology Networks
Technology Networks is an internationally recognised publisher that provides access to the latest scientific news, products, research, videos and posters. Our global community is made up of over 300,000 researchers and scientific professionals from the life science, drug discover and analytical arenas.
Please contact the event manager Marilyn below for the following:
- Discounts for registering 5 or more participants.
- If you company requires a price quotation.
Event Manager Contact: marilyn.b.turner(at)nyeventslist.com
You can also contact us if you require a visa invitation letter, after ticket purchase.
We can also provide a certificate of completion for this event if required.

NO REFUNDS OR TRANSFER ALLOWED ON REGISTRATIONS
-----------------------------------------------------------------
This Event Listing is Promoted by
New York Media Technologies LLC in association
with EXL Events Inc.
http://www.NyEventsList.com
http://www.BostonEventsList.com
http://www.SFBayEventsList.com
-----------------------------------------------------------------
SHU170601CEV SON170712UPD
Event Categories
Life Sciences, Biotechnology
,
SCIENCE AND TECHNOLOGY CONFERENCES
,
SOCIAL SCIENCES CONFERENCES
,
Technology
Keywords: conference , culture, Health , HealthCare , learn, Management , pharmaceutical , political, professional, program
---
---
---
Comments
---
---
Newsletters
VIP Life Time Subscription to our Newsletters!

$399.99