New York Professional Events List
European Due Diligence Summit for Life Sciences (EXL)
---
Date
Feb 26, 2018 - 08:00 AM - Feb 27, 05:00 PM
Organizer
New York Media Technologies LLC in association with EXL Events Inc
Location
Radisson Blu Portman Hotel, London22 Portman SquareLondonW1H 7BGUnited Kingdom,
United Kingdom,
United Kingdom,
US,
ZIP: United Kingdom
Phone: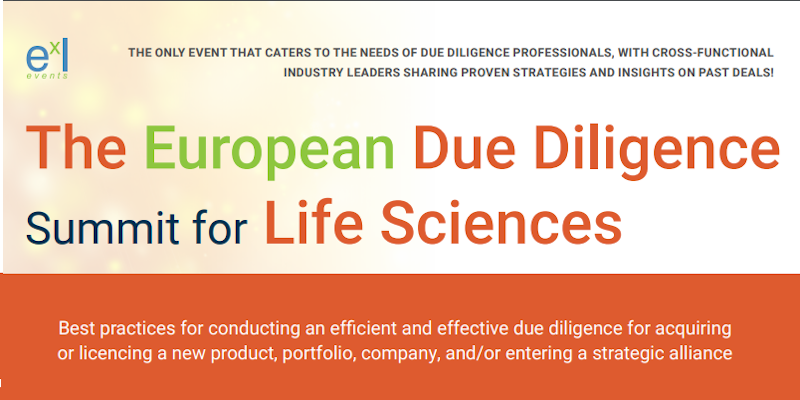 Description
European Due Diligence Summit for Life Sciences
Recent years have shown a rise in development across the generic and biosimilar industries, as many blockbuster products near the end of their patents. The need to expand the reach of R&D programmes has driven major new investments in co-development, strategic alliances, licensing and acquisitions, with big pharmaceutical companies scrambling to maintain their strongholds in specific therapeutic areas. This has increased the need for a robust due diligence process across all functions, as companies look to external targets as a means of supplementing pipelines and bolstering their product portfolios.
With the rising costs of drug and device reviews and the uncertainty of FDA approvals, the prospect of developing a new product from discovery onward has become a highly risky endeavour. Therefore, conducting strategic due diligence to identify and integrate potential targets at a stage of assured success, though costly, can often be an efficient approach to supplement organic business development.
Over the last four years, ExL Events' US-based conference has provided due diligence professionals with a platform to explore innovative models and deal structures for collaborating with strategic partners, and discussed valuable strategies for conducting efficient and effective due diligence. Join your peers at the inaugural European Due Diligence Summit for Life Sciences for the opportunity to network and engage with some of the industry's leading experts.
Top Five Reasons to Attend
Explore best practices for companies of all sizes looking to acquire or in-license a product

Understand how to conduct a comprehensive intellectual property due diligence investigation, and how it can alter the strategy for your deal

Learn how to evaluate and effectively manage strategic alliances through case studies from industry leaders

Assess the regulatory and compliance standards of a target and how gaps can lead to unforeseen financial burdens

Gain valuable insight on the impact company culture can have on the success of integrating the workforce post-merger or acquisition
Who Should Attend
This conference is designed for representatives from pharmaceutical, medical device and biotechnology companies with responsibilities in the following areas:
Due Diligence

Business Development

Strategic Alliance/Alliance Management

Mergers and Acquisitions

Licensing

Intellectual Property and Patent Counsel

Search and Evaluation

Portfolio Management
Scientific Assessment

General Counsel/Corporate Counsel

Legal and Regulatory Compliance

Regulatory Affairs

Research and Development

Clinical Medicine

Clinical Operations

Lifecycle Management
This conference is also of interest to:
Investment Banks

Private Equity Firms

Venture Capitalists

Data Room Providers
Due Diligence Consultants

Law Firms

Clinical Affairs and CRO Partners

Regulatory Affairs and Compliance Partners
Event Partners
---
MEDtube
MEDtube is an innovative video education platform for health professionals. It allows sharing videos and other materials with a community of more than 110,000 users worldwide, as well as building e-learning courses. The videoteque is updated daily and now contains almost 15,000 videos.
Website: http://MEDtube.net
PharmaLeaders
PharmaLeaders.com is an online environment dedicated to enriching the careers of more than 200,000 life sciences professionals. With breaking news and informative content grouped into one of nine segmented channels, in-depth special reports, job and events postings, and so much more, industry executives, manufacturers, marketers and educators can count on PharmaLeaders for the tools they need to succeed in today's competitive market environment. For more information, visit us online at www.pharmaleaders.com, write to us at [email protected] or call 888-400-1573, ext. 240.
Website: http://pharmaleaders.com/
pharmaphorum.com
pharmaphorum drives innovation within the pharmaceutical industry, by bringing together healthcare through a suite of media services that help produce and disseminate thought leadership, combined with an online platform for communicating messages to a global audience.
Visit pharmaphorum today to share, discuss and debate: www.pharmaphorum.com
Website: http://www.pharmaphorum.com
PharmaVOICE
PharmaVOICE magazine, reaches more than 41,000 qualified subscribers and 100,000 users with its digital edition. PharmaVOICE is the forum that allows business leaders to engage in a candid dialogue on the challenges and trends impacting the industry. PharmaVOICE provides readers with insightful and thought-provoking commentary in a multiple-perspective format through forums, topics, and articles covering a range of issues from molecule through market. PharmaVOICE subscribers are also kept abreast of the latest trends and information through additional media resources, including Social Media, WebLinx Interactive WebSeminars, Podcasts, Videocasts, White Papers, E-Surveys and e-Alerts.
Website: http://www.pharmavoice.com
PM360
PM360 is the premier, must-read magazine for marketing decision makers in the pharmaceutical, biotech, and medical device industries. Published monthly, PM360 is the only journal that focuses on delivering the full spectrum of practical information necessary for product managers and pharma marketing professionals to succeed in the complex and highly regulated healthcare environment. The journal's targeted and insightful editorial focuses on issues that directly impact critical decision making, including: planning and implementation of cutting edge strategies, trends, the latest technological advances, branding/marketing, advertising/promotion, patient/professional education, sales, market research, PR, and leadership. Additionally, the '360' in our title signifies the combination of this critical, how-to info with personal and career insights for an enjoyable and thought-provoking read. By providing the full circle of enriching content, PM360 is truly an indispensable tool for busy and productive marketing professionals to stay at the top of their game.
Website: http://www.pm360online.com/
Technology Networks
Technology Networks is an internationally recognised publisher that provides access to the latest scientific news, products, research, videos and posters. Our global community is made up of over 300,000 researchers and scientific professionals from the life science, drug discover and analytical arenas.
Website: http://www.TechnologyNetworks.com
Agenda
---
AGENDA
--------
Day 1
--------
Monday, 26 February 2018
-----------------------------
8:00 – 8:45
Registration and Continental Breakfast
8:45 – 9:00
Chairperson's Opening Remarks
Mike Myers, Senior Director, Lilly Research Labs — Due Diligence, ELI LILLY
9:00 – 9:45
Guidelines for Developing an Efficient and Targeted Due Diligence Plan
Chris Davie, Executive Director, Diligence, MUNDIPHARMA
9:45 – 10:30
Centre of Excellence: An Organisational Model for Driving Continuous Improvement in Due Diligence Practice
Gareth Ayre, Head Centre of Excellence, Due Diligence, NOVARTIS
10:30 – 11:00
Networking Break
11:00 – 11:45
Best Practice in Developing a Focused Intellectual Property Due Diligence Process
Steven Gurney, Principal Associate and Patent Attorney, MARKS & CLERK
Will James, Partner and Solicitor, MARKS & CLERK
11:45 – 12:30
Valuation Approaches for Licencing and M&A Transactions in the Life Science Industry
12:30 – 13:30
Luncheon
13:30 – 14:15
Identify Negotiation Factors That Can Impact the Purchase Price and Deal Structure of a Transaction
14:15 – 15:00
PANEL: Understand How to Make a Deal More Attractive to Investors
Lubor Gaal, Ph.D., Head of External Innovation and Licensing, ALMIRALL
Austin Doyle, Ph.D., FRSB, Director, Science and Technology Licensing, R&D Worldwide Business Development, GSK
Carl Jessop, FRQA, Due Diligence Director, Business Development, ASTRAZENECA
15:00 – 15:30
Networking Break
15:30 – 16:15
Partnerships, Prioritisation and Diligence
Nick Clarke, Ph.D., Head of U.K. Academic Partnerships, External Science and Innovation, PFIZER
16:15 – 17:00
Interactive Learning Discussion: Discover How Your Peers Conduct Due Diligence at Their Organisations
Mike Myers, Senior Director, Lilly Research Labs — Due Diligence, ELI LILLY
17:00 –
Day One Concludes
------------
Day 2
-----------
Tuesday, 27 February 2018
----------------------------------------
8:00 – 9:00
Continental Breakfast
9:00 – 9:15
Chairperson's Recap of Day One
Mike Myers, Senior Director, Lilly Research Labs — Due Diligence, ELI LILLY
9:15 – 9:45
Successfully Run a Gap Analysis to Determine the Development Costs and Future Sales for an EarlyStage Asset
Marco Cerato, Head of BD&L, Late-Stage and Marketed Products, HELSINN
9:45 – 10:30
Case Study: Considerations for Selecting a Marketing or Promotion Partner That Is Right For Your Product
Roland Pfeiffer, Ph.D., Head Commercial Development Europe, VIFOR PHARMA
10:30 – 11:00
Networking Break
11:00 – 11:45
Virtual Due Diligence and How to Successfully Leverage Data Rooms
John Easton, Ph.D., Head of Business Operations, Business Development, ASTRAZENECA
11:45 – 12:30
Panel: Effective Strategies for Working With External Advisors and Consultants
Cristiano Musso, Chief Business Officer, CIRCASSIA
12:30 – 13:15
Luncheon
13:15 – 14:00
Integration Management: The Challenge of Avoiding Value Deprivation of a Deal Post-Due Diligence
Robert Bauer, Ph.D., Director, Business Development EMEA, SANTEN
14:00 – 14:45
Case Study: Recognising and Challenging Bias in Navigating Portfolio Decision-Making
Mike Myers, Senior Director, Lilly Research Labs — Due Diligence, ELI LILLY
14:45 – 15:00
Chairperson's Closing Remarks
15:00 –
Conference Concludes
Speaker Details
---
CONFERENCE CHAIRPERSON

Mike Myers,
Senior Director, Lilly Research Labs — Due Diligence,
ELI LILLY
SPEAKERS
Gareth Ayre,
Head Centre of Excellence, Due Diligence,

NOVARTIS
Cristiano Musso,
Chief Business Officer,


Roland Pfeiffer, Ph.D.,
CIRCASSIA
Head, Commercial Development Europe,


Chris Davie,
VIFOR PHARMA
Executive Director, Diligence,


Lubor Gaal,
MUNDIPHARMA
Head, External Innovation and Licensing,
ALMIRALL

Please contact the event manager Marilyn below for the following:
- Discounts for registering 5 or more participants.
- If you company requires a price quotation.
Event Manager Contact: marilyn.b.turner(at)nyeventslist.com
You can also contact us if you require a visa invitation letter, after ticket purchase.
We can also provide a certificate of completion for this event if required.

NO REFUNDS ALLOWED ON REGISTRATIONS
-----------------------------------------------------------------
This Event Listing is Promoted by
New York Media Technologies LLC in association
with EXL Events Inc
http://www.NyEventsList.com
http://www.BostonEventsList.com
http://www.SFBayEventsList.com
-----------------------------------------------------------------
MYL170915CEV MAR170926UPT SAN171106UPT
Event Categories
Life Sciences, Biotechnology
,
SCIENCE AND TECHNOLOGY CONFERENCES
,
Technology
Keywords: fun, access , assessment , audience, business , Clinical , community , conference , culture, design
---
---
---
Comments
---
---
Newsletters
VIP Life Time Subscription to our Newsletters!

$399.99