New York Professional Events List
2nd European Clinical Quality Oversight Forum (exl) AS
---
Date
Feb 27, 2018 - 08:00 AM - Feb 28, 05:00 PM
Organizer
New York Media Technologies LLC in association with EXL Events Inc
Venue
London London United Kingdom
Location
LondonLondonUnited Kingdom,
United Kingdom,
United Kingdom,
US,
ZIP: United Kingdom
Phone: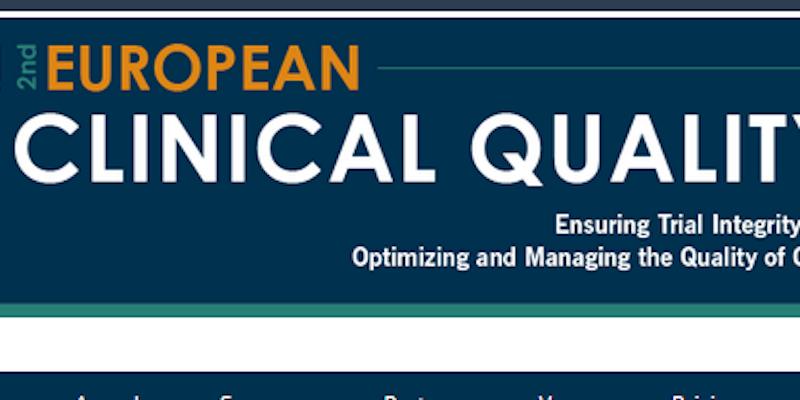 Description
2nd European Clinical Quality Oversight Forum
Our inaugural European CQOF in 2016 attracted 100 clinical quality experts, with over 70% representing more than 45 different pharmaceutical, biotechnology, and medical device companies from all over the world. We are pleased to announce our 2nd European Clinical Quality Oversight Forum, taking place 26–27 February 2018 again in London. This interactive event focuses on ensuring trial integrity by effectively assessing, optimising and managing the quality of clinical vendors and sites and attracts clinical quality, operations, management and audit professionals to engage and candidly share their experiences, struggles, obstacles, and achievements when working with varying clinical partners including CROs and investigator sites. Learn from this experienced group and take away proven, results-driven, risk-based strategies for optimising your company's clinical vendor and site oversight approach.
Top Five Reasons to Attend
Learn from the industry's leading clinical operations and quality experts from around the globe, as they candidly share their experiences, strategies and guidance for selecting and managing your clinical partners to ensure compliance and maximise performance

Benchmark your clinical quality oversight strategy against other similar-sized companies to ensure your approach is optimal and effective

Stay current on the changing GCP global regulatory environment and the impact on clinical compliance, quality, and operations

Integrate a risk-based, resource-optimizing approach for effective selection, monitoring and long-term management of your clinical vendors and sites

Position your trial for success by ensuring your clinical vendors and sites are inspection ready with the latest tools, technologies, and audit strategies
2016 Audience Demographics74% Pharmaceutical, Biotechnologyand Medical Device Companies74% Pharmaceutical, Biotechnologyand Medical Device Companies24% Clinical Service Providers24% Clinical Service Providers2% Other2% OtherHighcharts.com
60% Represented Director-Level and Above
Who Should Attend
This event is designed for professionals from pharmaceutical, biotechnology and medical device companies; CROs; and other clinical service providers who have responsibilities in the following areas:
Quality Management/Clinical Quality Management

Clinical Quality Assurance/QA/CQA

Clinical Quality Control/QC/CQC

Clinical Operations/Management/Research/Development

Compliance/Clinical Compliance/Regulatory Compliance

Monitoring/Site Management/Study Management
Clinical Outsourcing/Vendor Management/Third-Party Management

Good Clinical Practice/GCP

Auditing

Clinical Risk/Risk Assessment

Regulatory Affairs

Medical Affairs
The event is also of interest to:
Investigative Sites

Academic Research Organizations

Central, Imaging and ECG Labs
IVRS Companies

EDC Companies

Other Clinical Service Providers
Agenda
---
Agenda
Topics we are considering for this year's programme include:
Interpreting and Aligning with ICH E6 R2

Reviewing your Trial Master File from the EMA Perspective

Achieving a Confident State of Inspection Readiness

Examining the Progress and Impact of Inspection Collaboration Across FDA, EMA and PDMA

Assessing the Impact of Brexit on Clinical Compliance and Operations

Effectively Overseeing CRO Monitoring "Monitoring the Monitors"

Optimising Data Integrity through Effective Oversight

Identifying Strategic Clinical Vendors

Measuring the Clinical Quality of your Partners

Managing Quality between Sponsors and CROs

Initiating a Quality by Design Approach

Evaluating Quality and Oversight Concerns Specific to China

Prioritising Data Quality to Proactively Identify Possible Noncompliance

Overcoming Global Compliance Challenges

Developing a Risk-Based Vendor and Site Audit Strategy

Executing Effective Risk-Based Monitoring
Please contact the event manager Marilyn below for the following:
- Discounts for registering 5 or more participants.
- If you company requires a price quotation.
Event Manager Contact: marilyn.b.turner(at)nyeventslist.com
You can also contact us if you require a visa invitation letter, after ticket purchase.
We can also provide a certificate of completion for this event if required.

NO REFUNDS ALLOWED ON REGISTRATIONS
-----------------------------------------------------------------
This Event Listing is Promoted by
New York Media Technologies LLC in association
with EXL Events Inc
http://www.NyEventsList.com
http://www.BostonEventsList.com
http://www.SFBayEventsList.com
-----------------------------------------------------------------
MYL170801CEV MAR170926UPT
Event Categories
BUSINESS & MANAGEMENT CONFERENCES
,
HEALTH AND MEDICINE CONFERENCES
,
Healthcare
,
Life Sciences, Biotechnology
,
SCIENCE AND TECHNOLOGY CONFERENCES
,
Technology
Keywords: arts, assessment , audience, Clinical , design , development , environment, industry , learn, Management
---
---
---
Comments
---
---
Newsletters
VIP Life Time Subscription to our Newsletters!

$399.99