New York Professional Events List
12th Clinical Trial Billing & Research Compliance Conference (EXL)
---
Date
Feb 25, 2018 - 08:00 AM - Feb 28, 05:30 PM
Organizer
New York Media Technologies LLC in association with EXL Events Inc.
Location
Wyndham Lake Buena Vista Disney Springs Resort Area1850 Hotel Plaza BoulevardOrlando, FL 32830United States,
Orlando,
FL ,
US,
ZIP: 32830
Phone: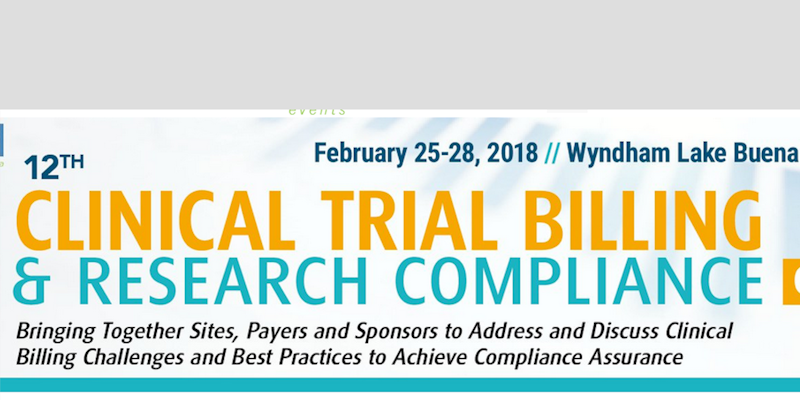 Description
12th Clinical Trial Billing & Research Compliance Conference
The 12th Clinical Trial Billing & Research Compliance conference will address the changing landscape of clinical trial billing and reimbursement. Sessions include the coverage analysis process, workload and budgeting, reimbursement, revenue cycle, physician billing, CTMS, EMR, coding, appeals, denials, and much more. Attend to hear sponsors, sites, physician practices, community hospitals, academic medical centers and payers discuss the real issues we are facing today in clinical trial billing, coding and reimbursement.
Key Topic Areas for 2018
Revenue Cycle Management

Billing Compliance Audits

Coverage Analysis

Government Payers
Commercial Payers

Financial Management

Budgeting

Contracting
Who Should Attend
The 12th Clinical Trial Billing & Research Compliance Conference is designed for professionals from sites, payers, CROs and sponsors with roles and responsibilities involving:
Clinical Research Billing

Clinical Trial Management

Compliance Operations

Consulting

Contracts and Budgeting

Coverage Analysis

Grants Management

Healthcare Provider Relationships

Site Management

Investigator Sites
IRBs

Managed Care, Medicaid and Commercial Health Plans

Quality Assurance

Research Administration

Research Compliance

Research Finance

Regulatory and Quality Assurance Services

Nurse Auditing

Internal Audits
This event is also of interest to:
Advocacy Groups

Agency and Capitol Hill Staff

Brokers and Agents

Health Services Researchers

Legal Counsel

Private Exchanges

Software and Technology Providers
Healthcare Providers

Managed Care Organizations, Medicaid and Commercial Health Plans

Medicaid Officers

IRBs

SMOs
Speaker Details
---
Faculty
---
Natalie Barton
Director of Legal Services, CLINICAL RESEARCH SOLUTIONS, LLC
Philip Butera
Administrative Director, Levine Cancer Institute, CAROLINAS HEALTHCARE SYSTEM
Sonya Castro-Quirino, AVP
Institutional Compliance Officer, TEXAS TECH UNIVERSITY HEALTH SCIENCES CENTER
Heather Davis, B.A., CHCP
Director, I-CARE, IASIS HEALTHCARE CORPORATION
Shanna Ford
Research Billing Compliance Consultant, INTERMOUNTAIN HEALTHCARE
Joe Fugitt
Lead Financial Analyst, SPECTRUM HEALTH
Rhonda A. Hoffman, CCRP
System Director, Research, NORTON HEALTHCARE RESEARCH OFFICE
Kathleen Hurtado, R.Ph.
Consultant, KELLY WILLENBERG & ASSOCIATES
Christina Jackson, BSN, RN, CCRC, CHRC
Compliance & Education Manager – Responsible Study Conduct Conflicts of Interest Official for Research Services, FH OFFICE OF RESEARCH INTEGRITY
Jeanna Julo, B.A., B.A., CCRP
Assistant Director, Clinical Data Management and Quality Controls, Auditing and Training, KUMC RESEARCH INSTITUTE
Pavel I. Kruchek, MBA, CCRP
Director, Business Operations, Clinical Trials Office (CTO), CENTER FOR CLINICAL AND TRANSLATIONAL SCIENCE (UTAH CTSA), UTAH TRIAL INNOVATION CENTER
Cynthie Lawson, BSBM, CHRC, CPC
Consultant, KELLY WILLENBERG & ASSOCIATES
Donnetta Lee Horseman, CHC, CHRC, CHPC, CIPP/US, CCE
Chief Compliance Officer, H. LEE MOFFITT CANCER CENTER AND RESEARCH INSTITUTE
Chris Longspaugh, Pharm.D.
Consultant, KELLY WILLENBERG & ASSOCIATES
Diva Miliáns
Clinical Trial Reimbursement, HE&R Department, ABBOTT
Rhonda J. Paz, Ph.D., CRCP
Chief Operations Officer, GUIDESTAR CLINICAL TRIALS MANAGEMENT
Wendy Portier, MSN, RN, CCM, CHRC, CHC
Consultant, KELLY WILLENBERG & ASSOCIATES
Sally Shipley
Research Manager, Research Finance and Regulatory Affairs, CARLE FOUNDATION HOSPITAL
Kelly Willenberg, DBA, RN, CCRP, CHRC, CHC
President, KELLY WILLENBERG, LLC
Event Partners
---
MEDtube
MEDtube is an innovative video education platform for health professionals. It allows sharing videos and other materials with a community of more than 110,000 users worldwide, as well as building e-learning courses. The videoteque is updated daily and now contains almost 15,000 videos.
PharmaLeaders
PharmaLeaders.com is an online environment dedicated to enriching the careers of more than 200,000 life sciences professionals. With breaking news and informative content grouped into one of nine segmented channels, in-depth special reports, job and events postings, and so much more, industry executives, manufacturers, marketers and educators can count on PharmaLeaders for the tools they need to succeed in today's competitive market environment.
pharmaphorum.com
pharmaphorum drives innovation within the pharmaceutical industry, by bringing together healthcare through a suite of media services that help produce and disseminate thought leadership, combined with an online platform for communicating messages to a global audience.
PharmaVOICE
PharmaVOICE magazine, reaches more than 41,000 qualified subscribers and 100,000 users with its digital edition. PharmaVOICE is the forum that allows business leaders to engage in a candid dialogue on the challenges and trends impacting the industry. PharmaVOICE provides readers with insightful and thought-provoking commentary in a multiple-perspective format through forums, topics, and articles covering a range of issues from molecule through market. PharmaVOICE subscribers are also kept abreast of the latest trends and information through additional media resources, including Social Media, WebLinx Interactive WebSeminars, Podcasts, Videocasts, White Papers, E-Surveys and e-Alerts.
PM360
PM360 is the premier, must-read magazine for marketing decision makers in the pharmaceutical, biotech, and medical device industries. Published monthly, PM360 is the only journal that focuses on delivering the full spectrum of practical information necessary for product managers and pharma marketing professionals to succeed in the complex and highly regulated healthcare environment. The journal's targeted and insightful editorial focuses on issues that directly impact critical decision making, including: planning and implementation of cutting edge strategies, trends, the latest technological advances, branding/marketing, advertising/promotion, patient/professional education, sales, market research, PR, and leadership. Additionally, the '360' in our title signifies the combination of this critical, how-to info with personal and career insights for an enjoyable and thought-provoking read. By providing the full circle of enriching content, PM360 is truly an indispensable tool for busy and productive marketing professionals to stay at the top of their game.
Technology Networks
Technology Networks is an internationally recognised publisher that provides access to the latest scientific news, products, research, videos and posters. Our global community is made up of over 300,000 researchers and scientific professionals from the life science, drug discover and analytical arenas.
Please contact the event manager Marilyn below for the following:
- Discounts for registering 5 or more participants.
- If you company requires a price quotation.
Event Manager Contact: marilyn.b.turner(at)nyeventslist.com
You can also contact us if you require a visa invitation letter, after ticket purchase.
We can also provide a certificate of completion for this event if required.

NO REFUNDS OR TRANSFER ALLOWED ON REGISTRATIONS
-----------------------------------------------------------------
This Event Listing is Promoted by
New York Media Technologies LLC in association
with EXL Events Inc.
http://www.NyEventsList.com
http://www.BostonEventsList.com
http://www.SFBayEventsList.com
-----------------------------------------------------------------
SHU170601CEV SON170712UPD JSM170914UPD
Event Categories
BUSINESS & MANAGEMENT CONFERENCES
,
Technology
Keywords: analysis, administration , Clinical , community , conference , design , Finance , Financial , government , Health
---
---
---
Comments
---
---
Newsletters
VIP Life Time Subscription to our Newsletters!

$399.99